Again, copying a trip report I posted on another site in hopes of boosting this site up too.
As you may have read here, a couple of months ago I took my son's Boy Scout troop to an Eastern Sierra campground. I fished the local creek with a couple of the boys, while others elected to dayhike to some nearby lakes. I didn't get much fishing in myself, and the water was very high and fast, but we did manage to get everyone onto some legal sized fish so they could earn the fishing merit badges. The folks who climbed up to the lakes returned with stories of a fish a cast, as well as some beautiful brookies.
Ever since then, I've been planning my return. I thought I'd backpack to those high lakes, so I'd have plenty of time to fish. In addition to the fishing, I also wanted to hone my backpacking skills. I planned a 5 day trip, which would be the longest I've backpacked on my own. This would also be a solo trip, which would force me to develop my backcountry skills, and also allow me to explore where ever my whims took me.
I drove up Friday night and stayed in a local motel. This would give me a little time to acclimatize to the altitude, pickup my wilderness permit, and enjoy one last night in civilization. I ordered a steak for dinner, which was waay overcooked, but the Mammoth Double Nut Brown Ale made up for it.
As I finalized my pack load in the motel room after dinner, I realized I'd made a huge mistake. I'd forgotten my hiking boots!! They were sitting back at home. I had a choice - buy a new pair of boots from one of the local shops, or make the trip in my tennies. Both because I didn't relish blowing a bill on another pair of boots, and also because I didn't think it would be smart to break in those new boots on a serious backpacking trip, I elected to just wear my old tennis shoes. They were actually trail running shoes that I'd bought for everyday wear, not that that made them suitable for backpacking. They were also pretty old, with a little white showing where the sole had already worn through in one spot. Still, I hoped they would get me through, and I would just have to watch my foot placement very carefully.
Saturday morning, I drove to the trailhead, and geared up. The tickle I'd been feeling in the back of my throat was still there, and I hoped I wasn't coming down with a cold. You can see how the base area of these mountain trailheads is really more desert than alpine:
It was hot at the trailhead, being below 8000 feet. I really struggled. My pack was way more than the recommended ratio - about half my body weight. Plus the altitude, the heat, maybe the cold, and I found I had to stop and rest every 50 feet. Other hikers blew past me, and I never caught anyone else. Still, I was looking forward to some hopefully incredible fishing: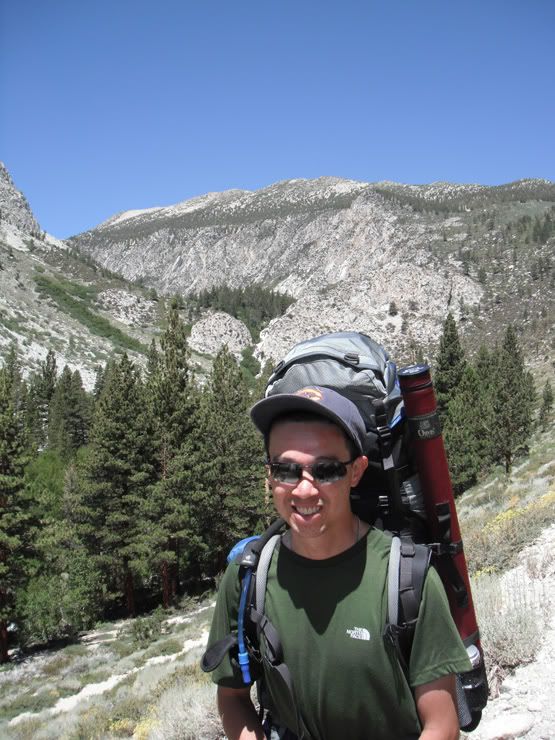 My goal was to reach the first lake along the trail and camp there the first night. The ranger who reviewed my itinerary suggested that I could also camp near a cabin they maintained about halfway. I reached that cabin about 2 in the afternoon, hot, tired, and hungry. I dropped my pack, and finished the powerbar I had been nibbling. A retired teacher that had passed me earlier was also resting up, so we struck up a conversation. This guy was more than 2 decades my senior, and from our conversation, I could tell he knew the area from many prior trips. Claude had backpacked 30+ days in the last year, so I hung on every word of his experience.
Rested, and eager to stay on schedule, we set out together. It turns out we had almost exactly the same pace, so we continued to chat on the trail. He was with a buddy, who had charged ahead of both of us. Their plan was for the young gun to get there first and make camp, but instead of staying where most people camped, Claude knew of a site away from some of the crowds. With Claude generally maintaining a slow and steady pace, and me rushing ahead, getting winded, and stopping to catch my breath, Claude and I reached his campsite around 7 o'clock. It was near the lake, with a gorgeous view: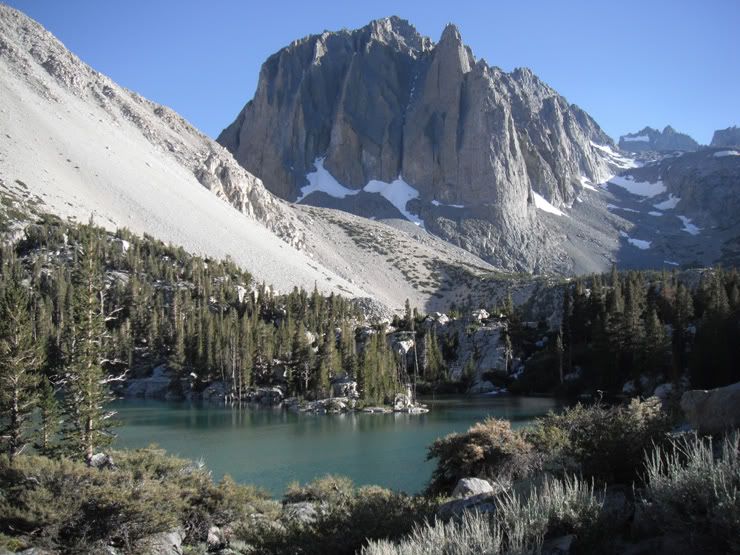 Claude and his buddy John finished making camp, broke out spinning rods, and proceeded to launch castmasters into the water. I did likewise, tying on first a Parachute Adams, and later a Griffith's gnat. Those guys put me to shame, outfishing me 5 - 1. I only managed a small rainbow, and one about 12 inches. They put about 5 fish on a stringer, and said they planned to fry them up for dinner. Since they had shared their site with me, and invited me to have dinner with them too, I contributed my larger rainbow. Sorry guys, I know you're mostly catch and release, and so am I, but I did want to return their hospitality. They weren't kidding about a fish fry - they had packed in oil, a frying pan, and Louisiana spices. After the long hot hike, dinner was very satisfying.
One other note - about an hour after turning in, I awoke with severe nausea and an almost violent urge to vomit. It took me an hour to beat back the nausea, and I almost lost it several times. Probably it was a combination of altitude sickness and a cold.
More later. I know you all read this mainly for the fish pron. It's coming...